Are you tired of your backyard looking like a barren wasteland? Do you want to create an outdoor oasis for entertaining and relaxation? Look no further than GLS Landscaping! We specialize in transforming dull and underutilized yards into beautiful and functional outdoor spaces. Our team of experts can provide a variety of services, from landscape and lawn care maintenance to hardscape installation and lighting design. In this ultimate guide to backyard enhancement, we'll walk you through each service we offer and the benefits of choosing GLS Landscaping for your backyard transformation.
Landscape and Lawncare Maintenance
The foundation of any beautiful backyard is regular landscape and lawn care maintenance. At GLS Landscaping, we understand the importance of keeping your yard looking its best year-round. Our services include mowing, trimming, mulching, and weed control. These tasks not only keep your yard looking clean and manicured, but they also promote healthy growth and prevent damage to your lawn and plants.
Landscape Design and Installation
Can you envision the outdoor oasis of your dreams? Let our landscape designers bring it to life! Our experts will work with you to create a customized design that meets your budget and style preferences. We'll also handle the installation process, whether you're looking for new plants, trees, or hardscape features. With our attention to detail and commitment to quality, you'll be amazed at the transformation of your backyard.
Hardscape
If you're looking to add a functional and beautiful element to your backyard, hardscape features are the way to go. GLS Landscaping offers a variety of hardscape services, including patios, walkways, retaining walls, fire pits, and more. Choose from a range of materials, such as brick, pavers, or stone, to match your desired aesthetic. These features not only enhance the look of your yard, but they also increase its functionality for outdoor entertaining and relaxation.
Lighting Systems
Don't let your beautiful backyard fade into darkness at night. GLS Landscaping offers custom lighting design to create an inviting ambiance in your yard. Our experts will work with you to determine the best placement and type of lighting, whether you want to illuminate walkways, highlight landscape features, or set the mood with accents. With our high-quality lighting systems, you'll be able to enjoy your backyard well into the evening.
Residential Feature
GLS recently cleared out tree and shrub overgrowth, regraded the backyard, and installed a new drainage system around this house with catch basins. Landscape beds were created, and the backyard was reseeded. The results were dramatic!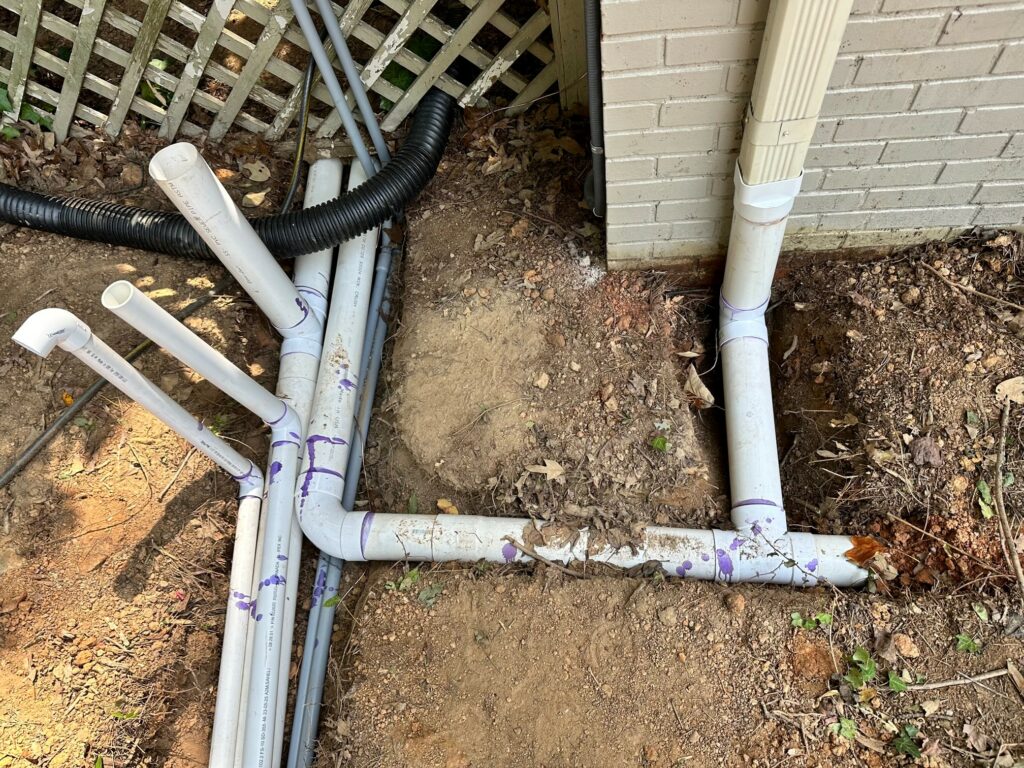 In addition to our services, GLS Landscaping also offers a variety of residential features to enhance your backyard. This includes tree and shrub overgrowth removal, yard regrading, drainage system installation, landscape bed creation, and reseeding. These additional features not only improve the appearance of your backyard but also address any potential issues that may affect the health and longevity of your yard.
Why Choose GLS Landscaping?
At GLS Landscaping, we take pride in our work and strive to exceed our clients' expectations. Our team of experts is fully licensed and insured, ensuring that your backyard transformation is done safely and professionally. With years of experience in the industry, we have the knowledge and skills to bring your vision to life. Plus, we offer competitive pricing and a satisfaction guarantee, so you can trust that you're getting the best service at the best value.
Don't let your backyard go to waste any longer. Contact GLS Landscaping and Maintenance today and see how we can transform your outdoor space into a beautiful and functional oasis for all to enjoy.